Author: Daniel King | Posted on: 2021-06-10 | Last updated on: 2023-05-29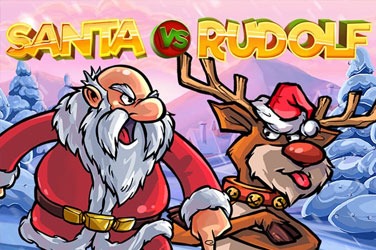 Introduction:
Get ready for a battle like no other as the jolly old Santa Claus and his mischievous reindeer, Rudolf, go head-to-head in the delightful slot game, Santa vs Rudolf Slot. Packed with holiday cheer and entertaining gameplay, this slot is sure to bring joy and excitement to your gaming experience. Let's explore the thrilling features and whimsical antics that await you in this festive showdown.
Festive Holiday Theme:
Immerse yourself in the enchanting atmosphere of Christmas as Santa vs Rudolf Slot captures the essence of the holiday season. The game's vibrant graphics, cheerful symbols, and joyful sound effects create a magical ambiance that will have you humming along to your favorite holiday tunes. From snowy landscapes to beautifully decorated trees, the game is a visual delight that will leave you feeling merry and bright.
Gameplay and Mechanics:
Santa vs Rudolf Slot offers a 5-reel, 3-row layout with 20 fixed paylines, ensuring plenty of opportunities for wins. The user-friendly interface allows you to adjust your bet size and spin the reels with ease, catering to both casual players and seasoned slot enthusiasts. With smooth animations and engaging mechanics, the game guarantees a seamless and enjoyable gaming experience for players of all levels.
Santa's and Rudolf's Wilds:
In this epic clash, both Santa and Rudolf act as Wild symbols, bringing excitement and potential big wins to the reels. When Santa's Wild symbol appears, it triggers a respin while moving one reel to the left with each respin. Similarly, Rudolf's Wild symbol triggers respins while moving one reel to the right. This dynamic feature creates a thrilling back-and-forth action as you root for your favorite character.
Free Spins and Bonus Features:
Santa vs Rudolf Slot offers a variety of bonus features to keep the excitement going. By landing Santa's and Rudolf's Wild symbols on the same row, you can trigger the Free Spins feature. During the Free Spins, you can benefit from additional Wilds, Sticky Wilds, and extra spins, further enhancing your chances of landing big wins and adding to the holiday festivities.
Gifts and Prizes:
As you play Santa vs Rudolf Slot, keep an eye out for special gifts and prizes that can appear on the reels. These bonus symbols can grant you instant cash prizes, additional free spins, or unlock other surprises that contribute to your winnings. Embrace the holiday spirit and embrace the joy of unexpected rewards as you spin the reels in this cheerful slot game.
Conclusion:
Santa vs Rudolf Slot delivers a delightful clash of holiday titans, combining festive cheer, entertaining gameplay, and exciting bonus features. Whether you're on Team Santa or Team Rudolf, this slot game offers an immersive and joyful experience that captures the magic of Christmas. So, gather around the virtual fireplace, sip on a cup of hot cocoa, and let the battle between Santa and Rudolf unfold as you spin the reels and collect your holiday winnings.