Poker is one of the top card games of all time. The game isn't just a player in casinos. It's a social card game played between players periodically, making it a top choice for new and experienced players. One of the very best things about
online poker
is that it comes in so many variants. One of them is pai gow, a unique poker variant deeply rooted in a special Chinese card game.
Loosely based on that game, pai gow poker is a version of the game played with cards instead of Chinese dominoes. Of course, there are some rule changes too. The game was created by Sam Torosian, the famed Bell Card Club owner, in 1985. The game is pretty popular in Vegas and online casinos as well, where you can play it for free or for real money.
Best Canadian Casinos to Play Pai Gow Poker Online
1

Welcome Bonus

100% up to 6000 EUR + 100 FS

Mobile-friendly interface
Great support
Over 2,500 Games

2

Welcome Bonus

100% + 100 Free Spins € 1 000

Advantageous promotions
Live chat available 24/7
Curacao license

3

Welcome Bonus

100% + 100 Free Spins € 1 000

Advantageous promotions
Great Live Casino
Multiple payment options

4

Welcome Bonus

100% up to 500 EUR + 200 FS

Fast sign up
Advantageous promotions
A massive selection of games

5

Welcome Bonus

Welcome Bonus up to 200 EUR

Over 2,500 Games
Curacao license
Generous welcome bonus

6

Welcome Bonus

Cashback and rakeback + 30 FS

Curacao license
Cashback up to 15%
Live chat available 24/7

7

A lot of Games

Fast sign up
Speedy payouts
10% weekly cashback

8

Welcome Bonus

100% bonus up to 3000 CAD + 100 FS

A lot of Games

Multiple payment options
A modern, fast platform (SoftSwiss)
A massive selection of games

9

Welcome Bonus

150% bonus up to 200 CAD

Slots Casino

24/7 support
128-bit SSL encryprion
eCOGRA-approved

10

Welcome Bonus

100% bonus up to 571.5 CAD + 155 FS

Best New Casino

Mobile Compatibility
Cryptocurrencies support
Exclusive bonuses for high rollers
How to Play Pai Gow Poker
The game is played with a standard deck of 52 cards plus only one joker. It's a game played on a table with six seats and the dealer. Like with all poker games, the game's objective is to beat the banker with a five-card poker hand and a two-card poker hand from seven cards on the table. This makes it a unique entry into the world of online poker.
The rank of the five-card hand must be higher than that of the other hand. That's why the two-card hand is called the 'small' or 'low' hand. The bigger hand is called the 'behind' or 'bottom' hand and is often known as the 'front' hand as its location is always in front of the player.
In many ways, pai gow poker is related to Hold'em Poker. This is about the fact that the same hands are used to determine the winner in the former.
As soon as the hands are set, the dealer will reveal them along with their own hand. There are 3 possible outcomes of each round:
The player wins their bet and both hands;
The dealer defeats the player by winning both hands;
Players can win one hand, and the dealer wins the other – this is a push that results in a returned stake to the player. The casino still takes a commission in this case.
All ties in pai gow poker go to the dealer. To put things into perspective, if both the player and dealer have a low A-K hand, they win it. Yes, it may be unfair, but that's not unheard of in the world of online poker. You can quickly learn how to play pai gow poker these days by practicing for free. While Vegas and land-based venues don't offer this opportunity, you can play for free in online casinos.
Pai gow poker may look complicated initially, but if you've ever tried Hold'em, it shouldn't be a problem. Plus, you have dozens of free variants of the game, so learning the ropes shouldn't be that hard.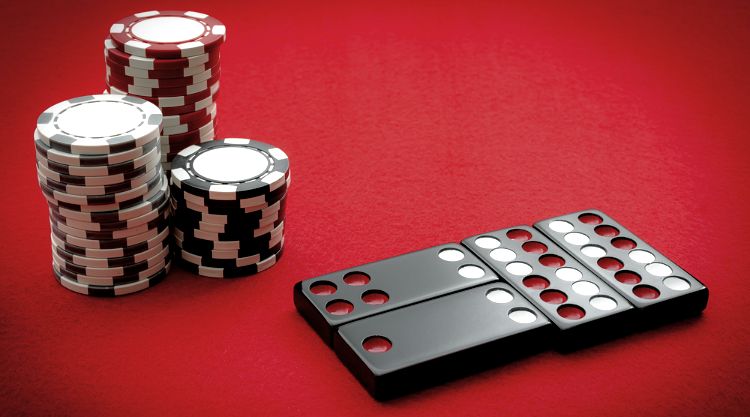 How to Play Pai Gow Card Game for Free
Playing pai gow poker for free is easy. Of course, you will need to find a casino that has it, but that's easy these days. You will need to register to learn how to play pai gow poker without investing in most cases. However, many casino sites will offer the game for free without the need to create an account.
Check yourself what's required and find pai gow poker in the game lobby. You can then just click on the variant to start playing. We'll walk you through the initial round so you can learn how to play pai gow poker for free and win when you splash the cash.
The dealing starts after the card shuffle. The dealer will then put them into 7 face-down piles of cards that consist of seven cards. There's a stack for the player and banker. There are four unused cards placed in the discard pile, which is known as muck.
Every seat on the table is numbered 1 to 7, beginning with the banker (who can be any player or a designated dealer). A number is randomly selected to decide who gets the first cards. The banker will then proceed with the dealing in a counter-clockwise direction.
All of this is usually written under the game's guide. Playing pai gow poker for free is easy thanks to these guides. Our guide can help you as well, so you can learn how to play pai gow poker and get settled for the real deal later.
Playing for free usually requires an account, but it doesn't need to be funded. Some casino sites may prevent you from playing pai gow poker for free, so you can just play for cash. Playing the game for free is a great idea to familiarize yourself with the rules, so you know what to do when the time comes to fund your account and play for real money.
How to Play the Game for Real Money
Playing pai gow poker for real money online requires a funded account. It's easy enough for anyone to play it, with many variants having their own guides. However, if you want to win, you'll need to learn the rules and cards. Luckily, you can play pai gow for free online, so practicing shouldn't be a problem.
When you're done brushing up your skills, you will need to top up your account. This means that you'll need to deposit before you can access the real money version. The best online casinos in Canada have a wide range of options to pick from, with the majority accepting CAD.
Follow these steps to get started:
Choose a reputable casino from our list;
Head to the Payments/Cashier page;
Choose a deposit option most suitable for you;
Enter the desired amount and click on deposit;
The money should be available to play within minutes.
As soon as the money lands into your account, all that remains is to click on Play for Money and enjoy the ride.
Tips and Strategies to Win on Pai Gow Poker
There are plenty of guides on how to play Fortune pai gow poker online, but rarely will anyone tell you how to win. Playing the game is relatively simple once you get to know the basics. However, winning on it is a whole different thing. Pai gow poker isn't a complicated game at all. There aren't that many decisions to make along the way. As soon as you place your first bet at the beginning of the round, there aren't many other bets to place.
However, there are a few decisions you will have to make quickly to get on top of things. To make a profit, you will have to beat both of the dealer's hands. You're much better off creating two unbeatable (or pretty strong) hands instead of having one superb one and one middling.
If you have a pair or better, put your highest-ranking card in the back and two of the second-highest-ranking cards upfront.
Splitting only makes sense if you have AA with another pair.
Two medium pairs or a high pair and a low pair should be split unless you have an ace. In this case, you play two pairs in the back and an ace-high in the front.
If you have quad 6s or something lower, keep them in the back. Play your strongest hand you have in the front.
Full houses should be split into trips and a pair combo. That is if you don't have a pair to go with it. If you do, keep the higher pairs in the low hand.
These are just some simple tips on how to win in pai gow poker. While skills are required, you will need a bit of luck too, so good luck, and we hope you make the right choices.