Dead man's Hand in Poker – all you need to know about aces and eights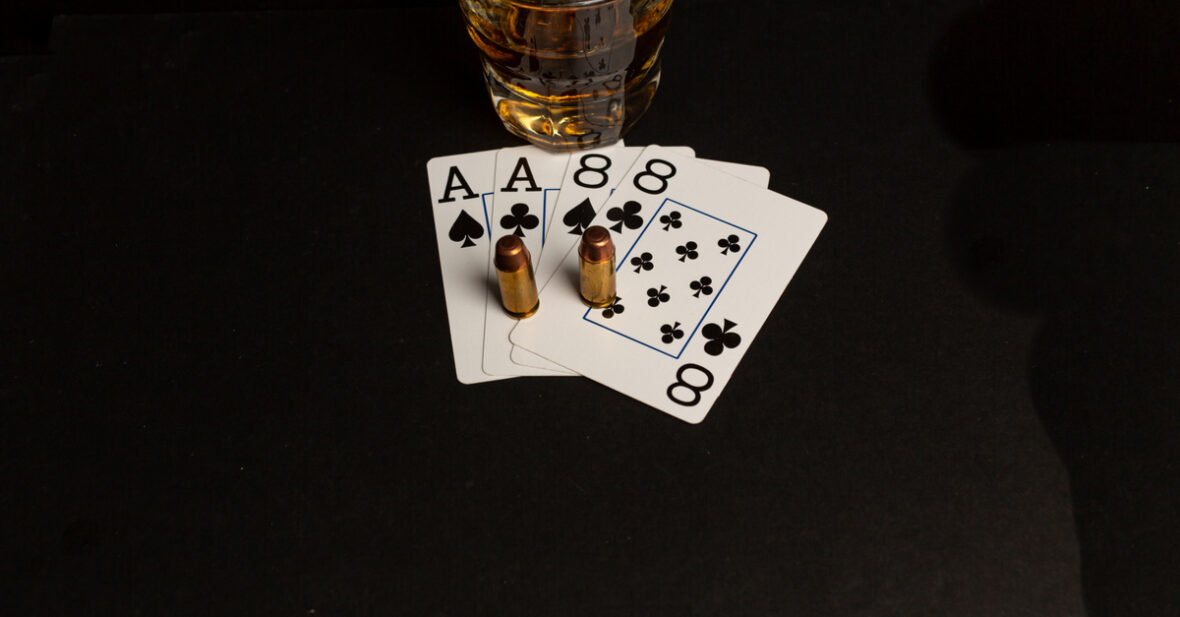 The legend of Wild Bill Hickok and the dead man's hand in poker is a tale that has been told many a time in several casinos and at so many poker games.
The game of poker is incomplete without the whispery warnings of impending doom when a poker player has in his hands the dead man's poker combination of cards – including both black aces and black eights as Wild Bill Hickok had just before he was shot.
So, in poker, what is known as the dead man's hand, and why is it considered an unlucky hand of cards? Sit tight as you are about to find out!
Best Canadian Casinos to Play Poker Online
1

Welcome Bonus

A 100% bonus up to 600 CAD

Best New Casino

Well Designed
Many Top Developers
Great Live Casino

2

Welcome Bonus

100% bonus up to 3000 CAD + 100 FS

A lot of Games

Multiple payment options
A modern, fast platform (SoftSwiss)
A massive selection of games

3

Deposit Bonus

100% up to 1600 CAD

A lot of Games

Numerous payment options
Impressive slots collection
Proactive customer support

4

Welcome Bonus

100% up to 1000 CAD

Mobile Casino

No minimum limit withdrawas
Staggering slots collection
Responsive customer support

5

Welcome Bonus

A 100% bonus up to 1500 CAD + 300 FS!

Bitcoin casino

Social slot gaming
Exciting loyalty program
Diverse welcome bonuses

6

Welcome Bonus

100% up to 3000 CAD + 200 Bonus Spins

Top Trend

Fast and safe withdrawal
Advantageous promotions
Fast customer support

7

First Deposit

100% up to 100 CAD + 101 Bonus Spins

Mobile Casino

Fast Payout
Huge amount of games
Nice app

8

Welcome Bonus

100% up to 1000 CAD + 50 Bonus Spins

Mobile Casino

Sports betting for Canada
Poker network
ECogra guarantees the fairness

9

A lot of Games

Fast sign up
Speedy payouts
10% weekly cashback

10

Welcome Bonus

100% up to 1000 CAD

A lot of Games

Curacao license
Abundant and varied promotions
Multiple cryptocurrencies supported
What is called a dead man's hand in poker?
The dead man's hand in poker is referred to as a hand of two pairs of black aces and two eights but originally had several meanings. In 1886 the dead man's poker combination was described as a hand of three jacks and a pair of tens. In 1903, it changed to a hand of jacks and sevens, and in 1907, a hand of jack and eights.
The most popular definition now is a hand of aces and eights, which gained popularity in the 1920s. The reference to the game as a combination of the aces and eights of both black suits (and an unknown fifth card) was influenced by the biography titled Wild Bill Hickok: The Prince of Pistoleers, which tied the poker slang to old west folk hero, James Butler Hickok.
Dead man's poker hand origins
Although sometimes paraded as folklore, the dead man's poker legend is real. It dates back far as 1876 where lawman and gambler James Butler "Wild Bill" Hickok was shot in the head by fellow poker player and local drunk Jack McCall on August 2, 1876. Legend has it that Hickok held a hand of five card draw, hence the moniker, dead man's poker. On the day before he died, Hickok won a drunken McCall at poker and still offered him money to feed while admonishing him not to play again. McCall was offended.
Upon entering the poker saloon (Nuttal and Mann's saloon, Deadwood, Dakota) the next day, he saw Hickok playing, which only infuriated him. He was said to have shot unsuspecting Hickok at the back of his head while shouting, "Damn you! Take that!"
How to get a dead man's hand in poker
As already established, the dead man's hand is a game of a five card stud. Although the story varies as to what the fifth card was, some versions of the story have it that Hickok was ace of spades(some say it is ace of clubs), ace of diamonds, eights of spades, and eights of hearts, along with a queen of hearts – with a splash of Hickok's blood on it.
The story claims that another player, Neil Christy, retrieved the cards Hickok's lifeless hand, revealing the dead man's poker combination we have come to know today. All the versions of the story agree that the dead man's hand comprises the aces and the eights, with a few discrepancies on the identity of the fifth card.
Therefore, to get a dead man's hand in poker, you ought to have:
a hand of both black aces – the aces of spades and the aces of diamonds
both black eights – the eights of spades and the eights of hearts
any other fifth card, preferably the queen of hearts or queen of diamonds
Dead man's poker hand popularity outside a poker game
Although a popular poker vernacular originating from west folklore of years back, dead man's poker hand and the brutal killing of James Butler Hickok has gained momentum in pop culture.
The accounts of the main events have been inspirations for novels and other books, creating fictitious depictions of the actual versions.
For example, James Patterson referenced aces and eights in his book Along Came a Spider. The fourth novel based on the movie Final Destination is titled Dead Man's Hand.
Dead Man's Hand is also the name of the seventh book of the Wild Cards series. Dead man's poker hand has also been featured in films including The Man Who Shot Liberty Valance and other TV shows and music.
Conclusion
Many believe that Hickok somewhat had a hunch about his death after confiding in a friend that he had a feeling he would die in Deadwood. He feared dying in the poker salon and so always chose to sit at a corner, with the seat facing the door and his back facing the wall. But that faithful day, another poker player beat him to it, and he didn't get to sit in his favorite spot.
Dead man's hand is one of the few nuances and backstories in the world of poker. What started as in-house lore has gained popularity many years after the death of Hickok and the murder sentence of McCall. But to this day, poker players still shiver at being dealt a game of aces and eights. They still believe it is a bad omen of a bad match at poker or a future death.
Share this post on your social media
Related Posts
Find Topic-Related Posts On Our Blog
FAQ
What is the fifth card in a dead man's hand?

• Some believe it's the queen of hearts, while others believe it was discarded and Hickok never drew his final card before the shooting.
What is a dead man's hand in Texas hold'em?

• It is said to be a starting hand comprising a black ace and a black eight, especially when paired by the river.
Why do they call it the dead man's hand?

• They call it the dead man's hand because Wild Bill was holding a combination of the same cards at the time of his death.