Author: Daniel King | Posted on: 2021-07-20 | Last updated on: 2023-03-14
Features
5 reel slots, Free Spins, Scatters, Wild Symbol.
Rack up Big Wins with the Dragon Link Slot
Today, we're offering a review of the Dragon Link slot network from Aristocrat. This exciting game creates quite a buzz in Canadian gambling communities, and players want to know more.
What is this slot network, how can you win, and how can you play? We have answers to all these questions and more – so keep reading.
How to play this slot game
The first thing to understand about Dragon Link is that it isn't a particular slot game. This title refers to the progressive jackpot prize shared between four of Aristocrat's most popular slots.
The slot machines themselves are Autumn Moon, Panda Magic, Golden Century, and Happy & Prosperous, and they are found at land-based casinos.
Understanding the controls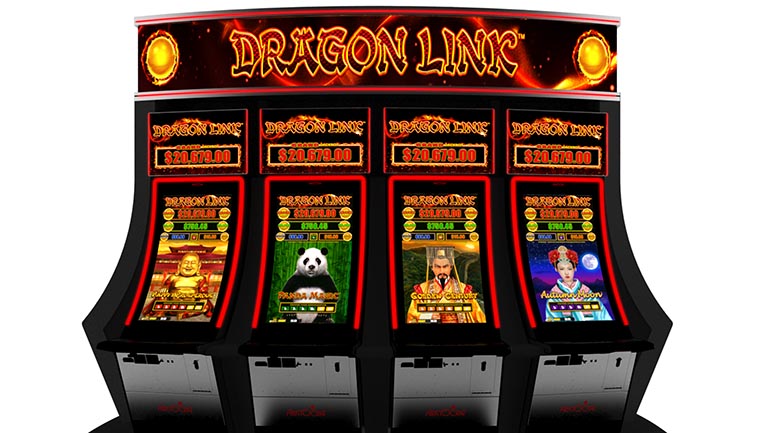 Playing one of the titles from the Dragon Link slot network is simple. These games all have the same basic structure. You'll find five reels, three rows, and anywhere from 25 to 50 paylines.
There's a decent range of bets available – again, varying by slot. You can wager as little as CAD $0.01 and over CAD $100 per spin, depending on the game in question.
Symbols and wins in the Dragon Link slot
The symbols in each game vary by each game's theme. For example, the Panda Magic slot has boats and tigers, while Happy & Prosperous offers golden Buddha coins. All titles in this network do have an underlying Asian theme.
When it comes to strategy, you can expect wins in this game to work the same as any other. Slots award prizes at random, and there isn't any way to influence the outcome. Betting higher gives you access to bigger prizes without a guaranteed win.
Favorite features of the Dragon Link slot game
Why do gamblers love Dragon Link titles so much? For one thing, these are all part of the same progressive jackpot network. A progressive jackpot grows with each bet placed and can quickly grow to hundreds or thousands of dollars.
When one player wins, they collect all the money in that particular jackpot. The jackpot then resets back to its seed amount and begins growing again.
Built-in features
Let's take a closer look at the Dragon Link slot features. It's most important to note that there isn't just one progressive jackpot shared between the games – there are four. These are the mini, minor, major, and mega jackpots. The total prize you win will vary by location and the jackpot seed.
Does this surprise you? It might, as most progressive jackpots have a firm minimum amount and prizes are linked no matter where you play. This game is a little different for three reasons:
The Dragon Link slot network is available only at local casinos for the time being
Land-based casinos influence the minimum amounts of each prize
Some jackpots are localized, i.e., all Dragon Link games in the same province will have the same jackpot size
Top online casino promotions

We would love to offer you direction to the best online casino promotions. However, we're not able to that at this time. Aristocrat is one of the top software providers for gambling websites – but these slot machines haven't been adapted to online play.
As soon as the Dragon Link network goes online, we will update this section to reveal the top bonuses. Until then, please check out one of the land-based casinos discussed below.
Where you can play this game for real money
Players can't access this slot network online at this time. Instead, you'll need to visit a brick-and-mortar casino to try it and take a shot at the progressive jackpot prize. We've taken the time to review the top casinos for 2023 that have Aristocrat machines available.
We would encourage you to visit any of these casinos or search for ones closer to home.
Dene Casino in Alberta
Casino de Montreal in Montreal
Casino de Charlevoix in Quebec
South Beach Casino in Manitoba
River Rock Casino in British Columbia
Rama Casino in Ontario