Joker Poker card game review
Video poker slots are easy-to-play casino games with big payouts and high RTP level. They offer players a speedy flow and the ability to get prizes hundreds of times bigger than their bets. There's no dealer in video poker, so your only goal is to receive the best possible combination of cards. The basic card hand ranking is the same as for other poker games, but there may be minor changes depending on the game you choose.
In this guide, we'll review a 2023 Joker Poker video game developed by Wazdan – a reputable company that also provides slot machines and table games for online casinos. Continue reading to learn more about the game rules, features, and bonuses.
How to play Joker Poker game?
This video poker game is very simple and works similarly to slot machines. You make a bet, press the Start button, and get an RNG-based random result that may bring you a prize. However, in video poker, you have cards instead of symbols and your coal is to get the best card hand. The combinations' ranking is the following:
Royal Flush – x1000;
Wild Royal Flush – x800;
Five of a Kind – x500;
Straight Flush – x200;
Four of a Kind – x50;
Full House – x13;
Flush – x10;
Straight – x8;
Three of a Kind – x4;
Two Pairs – x2.
The payouts for combinations are multiplied by the bet size. You can stake from 0.1 to 100 coins in the game. To change the bet, use the "+" and "-" buttons at the bottom of the screen.
There are also other controls in the game. They're all situated under your card hand on the video poker table. These controls allow you to adjust the basic settings, enable/disable sound, open game description, change the game speed, and start a new round, of course. You can play whether in standard or automatic mode. There are also special buttons to start a gamble feature and to take a win without further gambling.
You can play Joker Poker not only for money but also for free. In the demo mode, you'll get free coins, which you'll be able to use to make bets.
Game symbols
This video poker game uses cards from 2 to Ace. There's also a Joker card in the game, which works similar to the Wild symbol in slot machines. It can substitute any other card in combinations. Also, a Joker makes it possible to get such a combination as Five of a Kind.
Every card hand in the game has its value. The minimum combination to get a prize is Two Pairs. There are no payouts for a pair. The best hand is Royal Flush. The game also has a Wild Royal Flush combination that includes Joker, but it pays worse than the conventional card hand.
Bonus game
The Joker Poker video poker game has one additional bonus round. It's a Gamble feature. The bonus allows you to increase your winnings after getting a certain combination of cards. To start the feature, you have to use the appropriate button on the controls panel.
Your goal in the bonus round is to guess the colour of the card, which will be displayed on the screen. It's a random choice, which can bring you x2 winnings for every right pick. You can multiply the funds a few times in a row. This way, you can get deluxe winnings in the Joker Poker casino game.
What are the main advantages and special features of the game?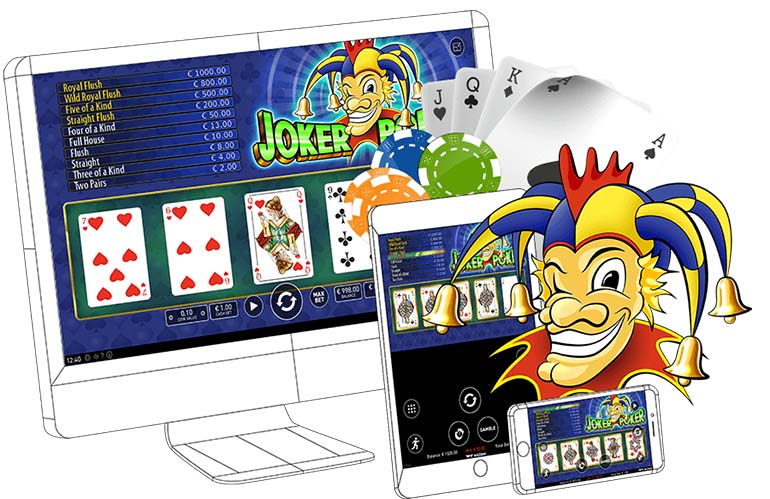 This video poker slot allows you to win up to x1000 your bet, which is a really high payout for a single combination. However, the RTP level is not so high here. It's only 96%, which is worse than in many other video pokers.
To get better wins in Joker Poker, you can use the Hold feature. It allows you to leave the cards you want in your hand for the next round. This way, you can increase your chances to get a better combination and win a bigger prize. Note that the new round requires a new bet, even if you use a Hold feature. The software will automatically choose the best cards to leave in hand, but you can change the selection according to your preferences.
It's great that the game has a Joker, which is a Wild card. This makes getting card combinations more simple. The ability to increase your winnings using a Gamble feature is another nice perk that allows you to receive VIP prizes in the Joker Poker game.
Tips for players
Video pokers are RNG-based games with random results. Still, you can increase your chances of winning a prize by following a few simple tips:
Manage your bankroll wisely and bet according to your budget.
Set stop-loss limits not to lose all your funds.
Don't change cards, which already form a winning combination.
Always hold a Joker card in the Joker Poker slot.
Don't go for Straight or Flush unless only 1 card is missing for the combination.
By following the tips above, you'll be able to decrease a house edge and get better winnings in this video poker game.