Blackjack has a special place in the hearts of many of those who enjoy casino and card games. The Blackjack table is a place where you can leave your worries of the day behind and focus on the dealer and your hand. How to play Blackjack at the casino and how to play
live Blackjack online
may look different, but the rush of saying "Hit me!" and winning your hand feel the same.
Best Canadian Casinos to Play BlackJack Online
1

Welcome Bonus

100% up to 6000 EUR + 100 FS

Mobile-friendly interface
Great support
Over 2,500 Games

2

Welcome Bonus

100% + 100 Free Spins € 1 000

Advantageous promotions
Live chat available 24/7
Curacao license

3

Welcome Bonus

100% + 100 Free Spins € 1 000

Advantageous promotions
Great Live Casino
Multiple payment options

4

Welcome Bonus

100% up to 500 EUR + 200 FS

Fast sign up
Advantageous promotions
A massive selection of games

5

Welcome Bonus

Welcome Bonus up to 200 EUR

Over 2,500 Games
Curacao license
Generous welcome bonus

6

Welcome Bonus

Cashback and rakeback + 30 FS

Curacao license
Cashback up to 15%
Live chat available 24/7

7

A lot of Games

Fast sign up
Speedy payouts
10% weekly cashback

8

Welcome Bonus

100% bonus up to 3000 CAD + 100 FS

A lot of Games

Multiple payment options
A modern, fast platform (SoftSwiss)
A massive selection of games

9

Welcome Bonus

150% bonus up to 200 CAD

Slots Casino

24/7 support
128-bit SSL encryprion
eCOGRA-approved

10

Welcome Bonus

100% bonus up to 571.5 CAD + 155 FS

Best New Casino

Mobile Compatibility
Cryptocurrencies support
Exclusive bonuses for high rollers
The Objective of Blackjack
The most widely played casino banking game in the world is Blackjack. Its universal appeal lies in its simple premise coupled with the potential of winning big.
The rules are clear and easy to follow. The goal of Blackjack is to create a hand that totals higher than the dealers without exceeding 21. You do this by adding together the two cards you get and "hitting" (having the dealer add a card to your hand) until you either reach 21, bust (go over 21) or have a total that you are comfortable to "stay" (end your turn and keep your card total) on.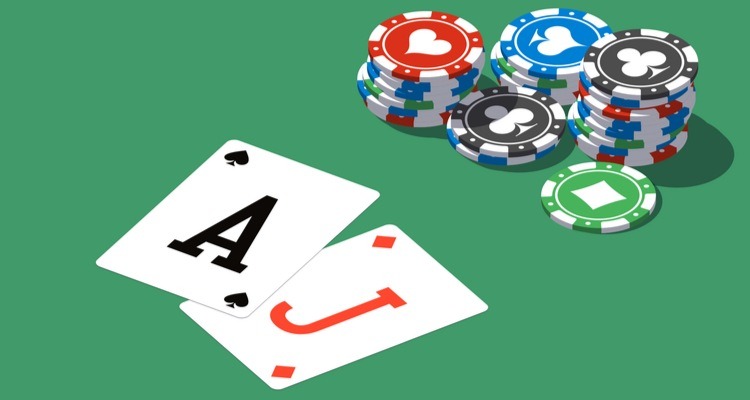 How the Cards Work
Whether you are learning how to play Blackjack for beginners or if you already understand how to play Blackjack for real money, knowing how the cards work is crucial to a great playing experience.
The dealer will deal out your hand face up to be counted. At the Blackjack table, your cards are counted by their face value. 2 through 9 are their respective values and 10, Jack, Queen and King are all worth 10. Aces are the exception because they can be either 1 or 11 based on how you want to play it.
Blackjack Hand Terms
Blackjack – Blackjack is a two-card hand that equals 21. Therefore, getting this hand means an automatic win. The only time that this is not true is if the dealer also has a blackjack which would lead to a push.
Bust – The term bust describes the situation where your cards equal more than 21. When this happens, you lose, and any bets are won by the dealer.
Hit – You take a hit when you are looking to have another card added to your hand. You would ask for a "hit" when you feel like your total is too low to be a winning hand.
Push – A push happens when you and the dealer have the same total of cards. When this situation arises, the bets are returned.
Soft Hands – A soft hand is any hand that has an Ace but doesn't equal 21.
Hard Hands – Hands with no Ace.
Surrender – When you give up your cards and receive half of your bet back.
The Blackjack Tables' Layout
Understanding how to play a Blackjack game isn't only about knowing how the cards work. It is also necessary to understand how the table layout determines the gameplay.
The layout of a Blackjack table serves multiple purposes. This is true if you want to know how to play Blackjack with friends or if you want to know how to play Blackjack in a casino.
The dealer is behind the betting line on a semi-circular, typically green table. This is where they deal the cards from. Up to seven seats are in front of the dealer, where players get their hands.
The dealer will deal cards from their left to their right. The far-left position is called first base, and the far-right position is called third base.
How to Play a Blackjack Round
If you have never played a round of Blackjack before, this is how the game plays out.
Place your bets.
The dealer will deal out the cards from his left to his right.
He will deal one player 2 cards, one face up. The player can either "hit" to get another card or "stand" to not receive another card.
The player may ask for cards until they are satisfied that they are close enough to 21 to feel confident they can win.
If the player gets over 21, they "bust" and are out of the game. The dealer will take their bet.
The dealer plays their hand, and the best hand wins.
The dealer moves on to the next player to repeat the process.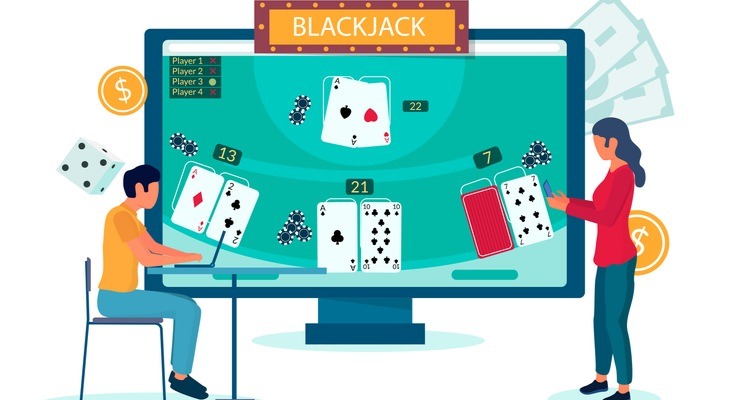 Blackjack for Beginners and Blackjack for Real Money
Blackjack for beginners: the best thing for beginners to do when learning to play Blackjack is to find a site that allows you to play for free. This way, you can get a good feel for the pace and practice and hone your strategy.
Blackjack for real money: Real money Blackjack gives each hand an entirely new feel. You have some skin in the game, and real bets make it more exciting. Casino sites offer great options for real money Blackjack.
Special Situations – Special situations can occur in which the gameplay changes when playing Blackjack.
Insurance/Even Money – Insurance is a side bet that players can make when the dealer deals themselves with an Ace. This insurance bet protects your bet if the dealer has Blackjack by allowing you to wager 2:1 that the dealer has that hand.
Blackjack – Blackjack (a 2-card hand that equals 21) means an automatic win for the player that has Blackjack. The exception is when the dealer also has Blackjack. This leads to a push where the bets are returned to the player.
Dead hand – A dead hand is a hand that has gone over 21 and is "busted." This hand is dead and can no longer be played.
Side bets – Side bets are additional bets that can be wagered after the initial bet and before the deal to potentially increase a player's winnings. These include Perfect Pairs, 21+3, Insurance, Royal Match and Over/Under 13.
Payouts – One of the reasons Blackjack is such a popular game is because of the potentially high payouts.
When playing Blackjack, if you receive a natural Blackjack, which is an Ace and a card whose value is 10, the rules state that you get paid out 3:2. This means if you bet 10$, you have your 10$ returned, plus 15$.
Any other bet you win is an even money payout which means if you bet 10$ and win, you get your bet returned, plus 10$.
If you have the same hands, it is a "push," Neither person wins, and the bets are returned.
BlackJack Strategies
Part of knowing how to play live Blackjack online, with friends or in the casino is having a solid strategy for winning. These are some basics that get help get some wins under your belt.
Always Hit
Hard 11 or less
Soft 17 or less
Always Stand
Soft 19 or more
Hard 17 or more
Always Surrender
Hard 16 (but not a pair of 8's) against a dealer 9, 10 or Ace
Conclusion
Blackjack is a fascinating and exhilarating game that can be hours of fun with friends or by yourself. Learning to play with a solid strategy will give you the best chance of winning some great hands and keep you coming back for more. There is a reason Blackjack is one of the most popular card games in the world. Great payouts and great fun are sure to be present when playing Blackjack.