What Are the Most Important Symbols in Slot Machines?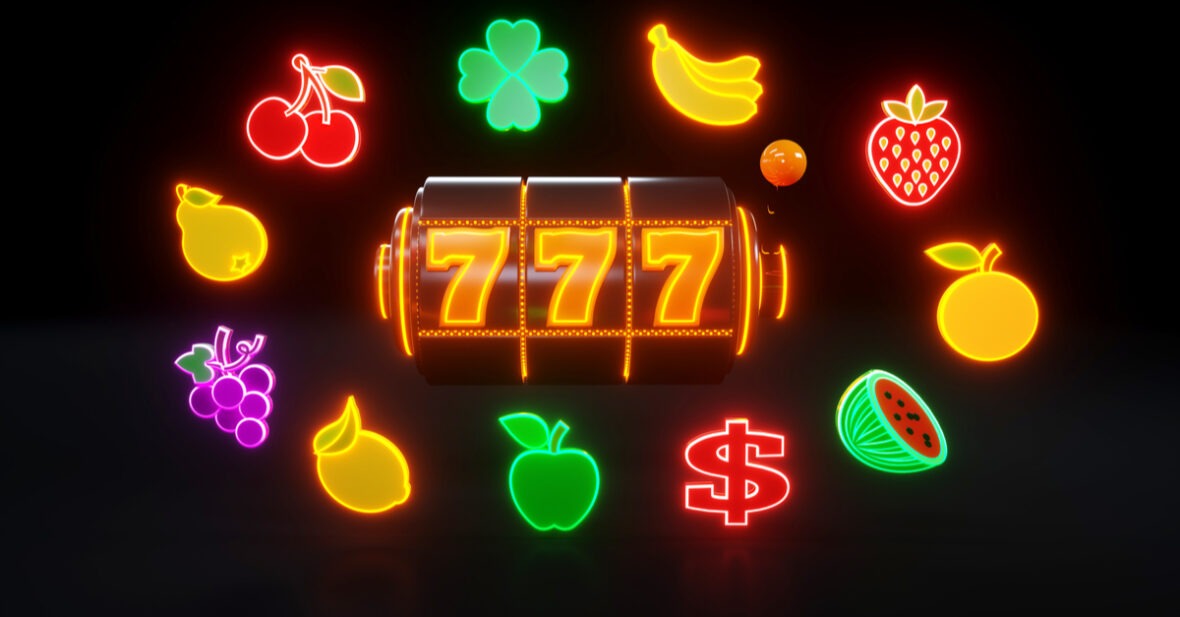 Each slot in Canada has reels set-up that acts as a playing field displaying different symbols. While the old-fashioned machines featured fruity icons and sevens and bells, the array of symbols on today's casino titles has changed considerably. Now, we are dealing with symbols in slot machines divided into two categories: payout symbols and special icons. So, let's find out what we can expect from certain symbols on a slot machine reel.
Best Canadian Online Casinos to Play Slot Machines in 2023
1

Welcome Bonus

100% up to 6000 EUR + 100 FS

Mobile-friendly interface
Great support
Over 2,500 Games

2

Welcome Bonus

100% + 100 Free Spins € 1 000

Advantageous promotions
Live chat available 24/7
Curacao license

3

Welcome Bonus

100% + 100 Free Spins € 1 000

Advantageous promotions
Great Live Casino
Multiple payment options

4

Welcome Bonus

100% up to 500 EUR + 200 FS

Fast sign up
Advantageous promotions
A massive selection of games

5

Welcome Bonus

Welcome Bonus up to 200 EUR

Over 2,500 Games
Curacao license
Generous welcome bonus

6

Welcome Bonus

Cashback and rakeback + 30 FS

Curacao license
Cashback up to 15%
Live chat available 24/7

7

A lot of Games

Fast sign up
Speedy payouts
10% weekly cashback

8

Welcome Bonus

100% bonus up to 3000 CAD + 100 FS

A lot of Games

Multiple payment options
A modern, fast platform (SoftSwiss)
A massive selection of games

9

Welcome Bonus

150% bonus up to 200 CAD

Slots Casino

24/7 support
128-bit SSL encryprion
eCOGRA-approved

10

Welcome Bonus

100% bonus up to 571.5 CAD + 155 FS

Best New Casino

Mobile Compatibility
Cryptocurrencies support
Exclusive bonuses for high rollers
What Symbols Can Appear on Slot Machine Reels in 2023?
Let's take our minds back to the beginning of the 20th century when a ban on gambling machines paying out winnings in coins came into effect. Saloons, to avoid banning, began to place slot machines that gave out fruit-flavoured chewing gum instead of cash payouts. So, it is now clear why the first symbols in slot machines were depicted as fruit. Half a century later, due to the popularity of poker machines, their card symbols also began to appear on the reels of regular slots. Although a long time has passed, in 2023 there are still card symbols on a slot machine reel depicted as card denominations. However, to provide a more immersive gaming experience, modern slots have added reels and some special symbols as well, as discussed below.
Wild Symbols
Often the most valuable symbol on the paytable of many slots in Canada, Wild serves a traditional substitute function, acting as any simple icon to help complete winning combinations. However, slot makers have gone even further by introducing several varieties of Wild:
Stacked. Dropped in multiple pieces at once, these symbols in slot machines greatly increase the chances of forming winning combinations. They are also related to the "wild reel" concept when its entire surface is covered with special symbols.
Expanding. As the name suggests, these icons can expand over the entire surface of the reel, and they do so by their enlarged size.
Spreading. These symbols on slot machines are prevalent due to their ability to turn other symbols on the playing field into Wild.
Sticky. Acting like normal Wilds, they can stay on the playing field for several consecutive game rounds.
Multiplier. These icons contain a tied multiplier that will be added to the winnings gained from combinations involving Multiplier Wilds.
In addition, several other types of Wild increase the chances of landing combinations in one way or another due to their ability to replace simple icons.
Scatter Symbols
The key to some extras, such as the free spins bonus, Scatter is probably the most popular icon among special ones. When it comes into play, you can always expect some greater wins. As its name suggests, it forms valuable combinations without being tied to paylines. Simply put, you need to land 3 or more Scatters anywhere on the game grid to activate a particular prize feature. In some titles, Scatters work as symbols on a slot machine reel with additional payouts attached to them. For example, hitting a combination of three or more special symbols in slot machines will result in a fixed payout before the bonus game starts.
Bonus Symbols
These are another kind of special icons that are always a joy to behold when they land on the reels, as they, like Scatters, are capable of triggering some bonus features. The key difference between the Bonus symbol and the Scatter is that the former has no payout attached. Bonus icons will not reward you with cash prizes if you land them in enough quantities to qualify for the bonus game. The reason this symbol gets its name is that it is directly responsible for activating the extra features.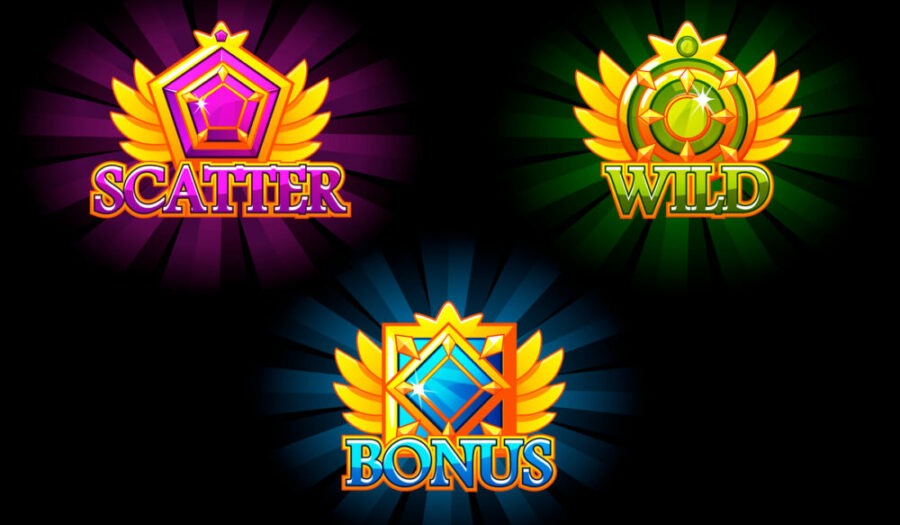 Standard Symbols
When playing online slots, you'll often see the so-called standard symbols, and they can be divided into 2 categories:
Low-paying symbols in slot machines. Most often depicted as card denominations, they often appear on the play grid and form low-value combinations. Some slots remove low-paying icons from bonus games to improve your chances of winning something of value.
Themed symbols in slot machines. This is the most diverse group of icons, with the design options limited only by the theme and imagination of casino game developers. Appearing on the reels less frequently, they form high-paying combinations in base and bonus games.
Notably, in some slots, the standard icons can take on the function of the special ones, usually in bonus rounds.
What Do the Symbols on Slot Machines Mean?
The main purpose of standard symbols is to form combinations of at least three – or more rarely two – matching icons located on active paylines. To win, you must land a combination with the first symbol located on the left-most reel, but this rule does not work for all titles. As for the bonus icons, they are introduced for triggering bonus features. In some games, bonus symbols are also paid if you form a combination of them. No matter their role, symbols in slot machines will always be an essential element of any title.
How Many Symbol Combinations Are There On A Slot Machine?
To find out the number of possible combinations, go to the paytable section. Here, you will find all the symbols available in the game and the minimum number of matching ones required to get a payout. The information contained in the paytable also gives you an idea of the value of symbols in slot machines.
Summary
So, now that you know everything you need about symbols in slot machines and the functions they perform, it's time to try them in action. Play any slot you like in risk-free mode first. Once you understand how these symbols work, you can try your luck by switching to the real game.
Share this post on your social media
Related Posts
Find Topic-Related Posts On Our Blog
FAQ
What were the very first symbols in slots?

In the 1890s, when the first slot machines were introduced, they displayed card symbols on the reels but were later replaced by fruit icons.
What are the best symbols?

Stacked/expanding/sticky Wilds and Scatters with attached multipliers are the best icons in terms of potential payouts.
What does BAR mean on slot machines?

Introduced when slot machines paying out cash prizes were banned, BAR looks like a bar of gum.